For every bride-to-be, the wedding day and the engagement day are deemed to be the happiest days in her life. The promise of being together forever with your significant other calls for a celebration! And when we say celebration, we definitely mean music, sumptuous food, being surrounded with all the people you love and most importantly…look your stunning self on the D-day!
With the big day coming up, the bride has to focus not only on her wedding gown but also on the accessories that complete the final look. If you're here to get ideas on what kind of jewelry you should adorn on your wedding day, then my friend you're in here for a treat.
Rubies, one of the most precious gemstones in the world, have earned a lot of love and appreciation because of their enigmatic hues and shades. The millennial brides have fallen in love with the red gemstone so much that they love to have their engagement ring with a ruby centerstone. Scoring 9 out of 10 on the Mohs scale of hardness, ruby is said to be one of the hardest color gemstones. Rubies in your engagement ring or in your wedding jewelry will definitely attract a lot of eyes on you!
From the beautiful selection of rings, bands, and pendants, we have curated a list of accessories that will make you look super unique and the most gorgeous bride ever!
Ruby Wedding Bands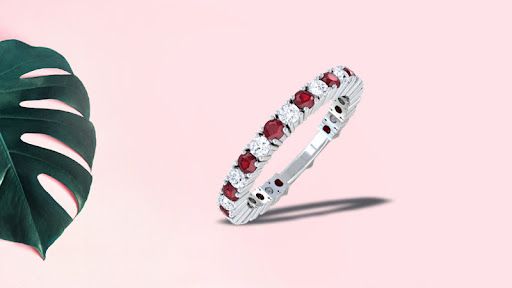 Wedding jewelry adds the final touch to the bride's final look. With a pop of red in her jewelry she is definitely going to grab the attention she deserves. Ruby wedding bands with a hint of sparkling diamonds is a stunning combination and will make your hands look elegant.
If you're looking for an exceptional piece of ruby wedding band, then your search ends here! GemsNY, a bespoke jewelry brand has an exceptional ruby and other gemstone jewelry collection that is here to win your heart.
Ruby Engagement Ring
Are you a traditional bride or a modern one? Diamonds have always been the most loved centerstone for an engagement ring, although color gemstones have been receiving a huge popularity among the new brides. Rubies are the new favorites! Ruby engagement rings are even popular among celebrities like - Jessica and Ashlee Simpson, Victoria Beckham, Katy Perry, etc.
If you're highly inspired by your favorite celebrities and aspire to be like them...then maybe opting for a ruby engagement ring will get you a little closer! Let the splash of red express your personality forever.
Ruby Bracelets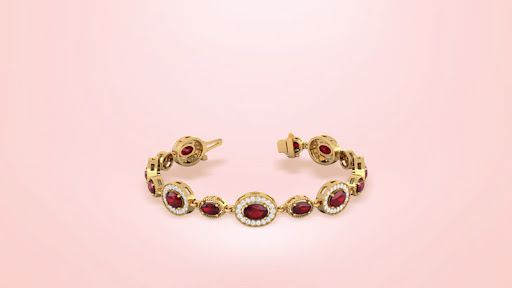 One of the most overlooked and underrated accessories is a bracelet. But if you choose a statement bracelet then it's the only thing you need to top your look! A ruby red bracelet with sparkling diamonds etched to it is definitely the jewelry you should sport on your wedding!
Ruby symbolizes love, passion, wisdom, and unity. As the stone of love, ruby is believed to bestow a prosperous and happy life to its wearer! For the most beautiful Ruby bracelets collection, visit gemsny.com.
With wedding season around the corner, we are sure the ruby accessory guide was a lot helpful for you to make your decisions. GemsNY is a bespoke jewelry company with more than 50,000 gemstones in its inventory. We believe that we can redefine luxury for you on your special occasion. Shop your wedding look here!